Testimonials — Gratitude and Fond Memories
For almost everyone that comes to live with us, this is their final earthly home. We are committed to making our residents feel loved, honored and truly at home here at Garden View. We care deeply and take the time to ease their transition. At the same time, we do what we can to assist the family members, leaving them with fond memories and a light heart.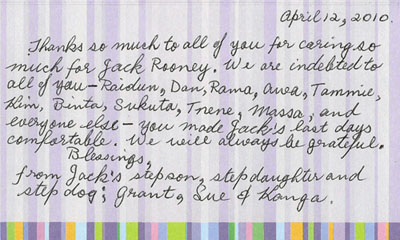 Thanks so much to all of you for caring so much for Jack Rooney. We are indebted to all of you — Raidun, Dan, Rama, Anea, Tammie, Kim, Binta, Sukuta, Trene, Massa, and everyone else — you made Jack's last days comfortable. We will always be grateful.
Blessings,
from Jack's stepson, stepdaughter and step dog; Grant, Sue & Kanga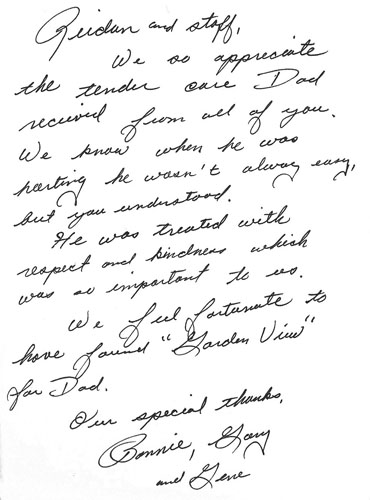 Reidun and staff,
We so appreciate the tender care Dad received from all of you. We know when he was parting he wasn't always easy, but you understood.
He was treated with respect and kindness which was so important to us.
We feel fortunate to have found "Garden View" for Dad.
Our special thanks,
Bonnie, Gary and Gene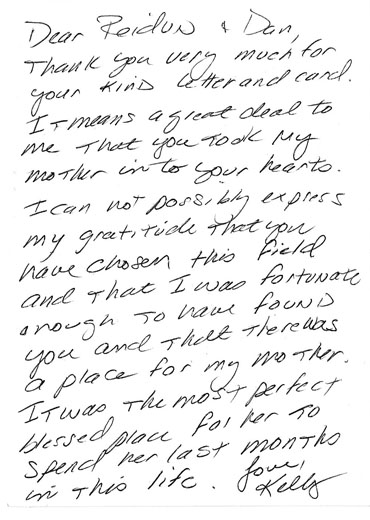 Dear Reidun & Dan,
Thank you very much for your kind letter and card. It means a great deal to me that you took my mother into your hearts.
I can not possibly express my gratitude that you have chosen this field and that I was fortunate enough to have found you and that there was a place for my mother.
It was the most perfect blessed place for her to spend her last months in this life.
Love,
Kelly
Mom blossomed in your care and loved all the staff and especially Dan's "Santa". And Reidun, your care with each resident showed in how you cared for my mothers behaviors and helped her transition in such a peaceful way. She was so loved.
Thank you
Mary Mills
My deepest appreciation for the loving care you provided Betty. She really enjoyed your family and being with you.
We are grateful for the love and support, friends and family of Betty were able to share.
The Mills Family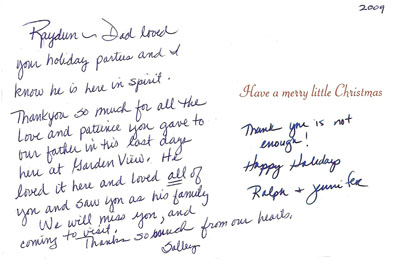 Raydun — Dad loved your holiday parties and I know he is here in spirit. Thank you so much for all the love and patience you gave to our father in his last days here at Garden View. He loved it here and loved all of you and saw you as his family.
We will miss you, and coming to visit.
Thanks so much from our hearts, Salley
Thank you is not enough!
Happy Holidays
Ralph & Jennifer